Why Hollohaza Porcelain Jewelry? Why should you care about it?
"The jewel, which is so well adapted to a woman's adornment, is a combination of the riches of nature and art"
- Charles Blanc
Why Hollohaza Porcelain Jewelry?
The Holiday season has begun, and I guess already you have started the gift hunting. Here at 3 Barn Swallows, we launched our special Hollohaza Porcelain Jewelry Gift Sets. These sets are made to order, and they come in a gift box with the certificate of authenticity.
Why Hollohaza Porcelain Jewelry? Why should you care about it?
Let me answer with a Charles Blanc quotation.
"The jewel, which is so well adapted to a woman's adornment, is a combination of the riches of nature and art; it is concentrated brilliancy, the quintessence of light.... In the bowels of the earth, in the deserted channels of exhausted torrents, in the gloomy depths of the mineral world, stars are concealed that rival in their beauty those of the firmament. The fresh spendours of dawn, the sun's incandescent rays, the magnificent sunsets, the brilliant colours of the rainbow, all are found enclosed in a morsel of pure carbon or in the centre of a stone.... uniting as though urged by the secret instinct of the beautiful, to compose prismatic forms of astonishing regularity..."
This feeling exactly is what they can give you, this is their duty and they do this very well.
These are feelings, and I believe, this is the most important thing when we choose a new piece of jewelry.
And one more thing. I know you always searching for something else, something that is nobody own. Something, that can make your look really unique. And makes you feel good. I know this because I do the same. I think that's why you are here, and that's why we brought for you the Porcelain jewelry collection. The good news is, with these art pieces you can achieve this. At this time no one owns a Hollohaza Porcelain jewelry, except Zita of course. So you can be the first who wears one of them. You can be the first who has a unique appearance, either on weekdays or on holidays. You can be who leads the trends and not follows that. Actually, this is my vision, my mission, to give you the jewelry that makes you feel unique.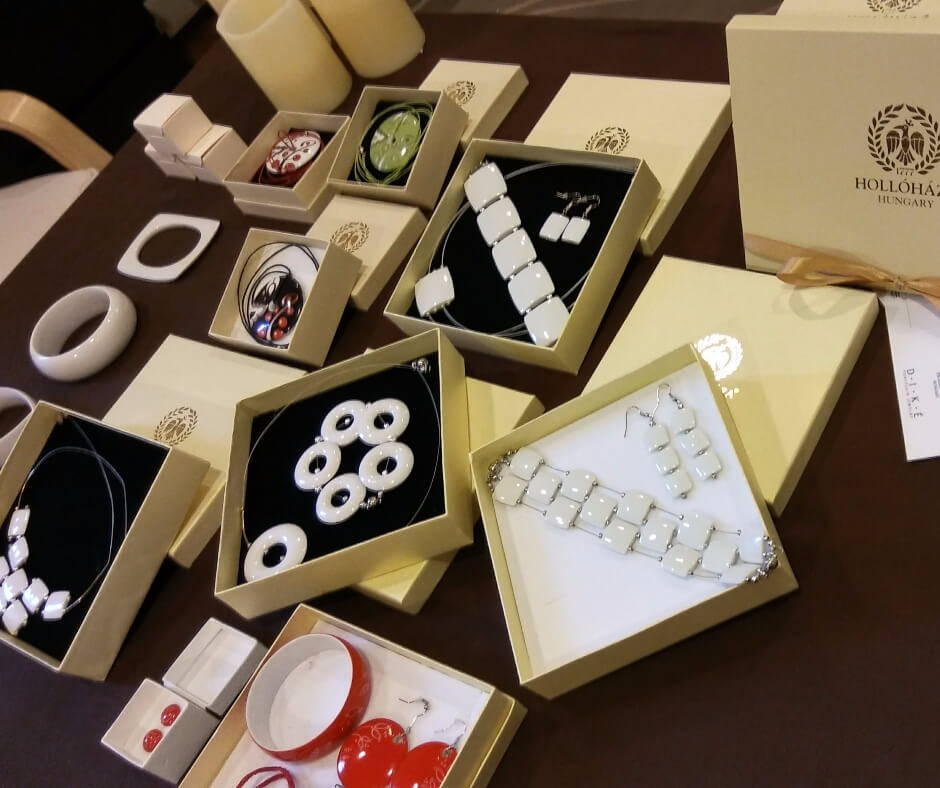 But maybe you are a materialistic person and you want to know the value, behind design and feeling.
Our jewelry's decoration and design are shaped for people of all ages to find an appropriate and attractive product, although the main target group of 25-50 year old women. On the one hand, our product range already contains jewel collection, it's available at a surprisingly affordable price, they have sticker design, but the main focus is on the exclusive, hand-painted sets.
Here are the facts.
The Hollohaza Porcelain Manufactory is one of the oldest and famous porcelain manufactory in the world.

The manufacturing technology and the primary commodity meets the highest European and World standard.

Their products are manufactory made (handmade), not cheap mass production.

Their products are timeless, lasting value, made for generations, not for a year. Products of the last decades, nowadays already valuable antiquities.

The manufactory cooperates with award winner, European famous artists, designers.

Every product design (including jewelry) must meet an artist jury's criterions. If a design fails, it never will be a Hollohaza Porcelain product.

The Hollohaza Porcelain Jewelry is the first time in the U.S, only at 3 Barn Swallows. In other words, you can be the first who wears an exclusive and unique jewelry.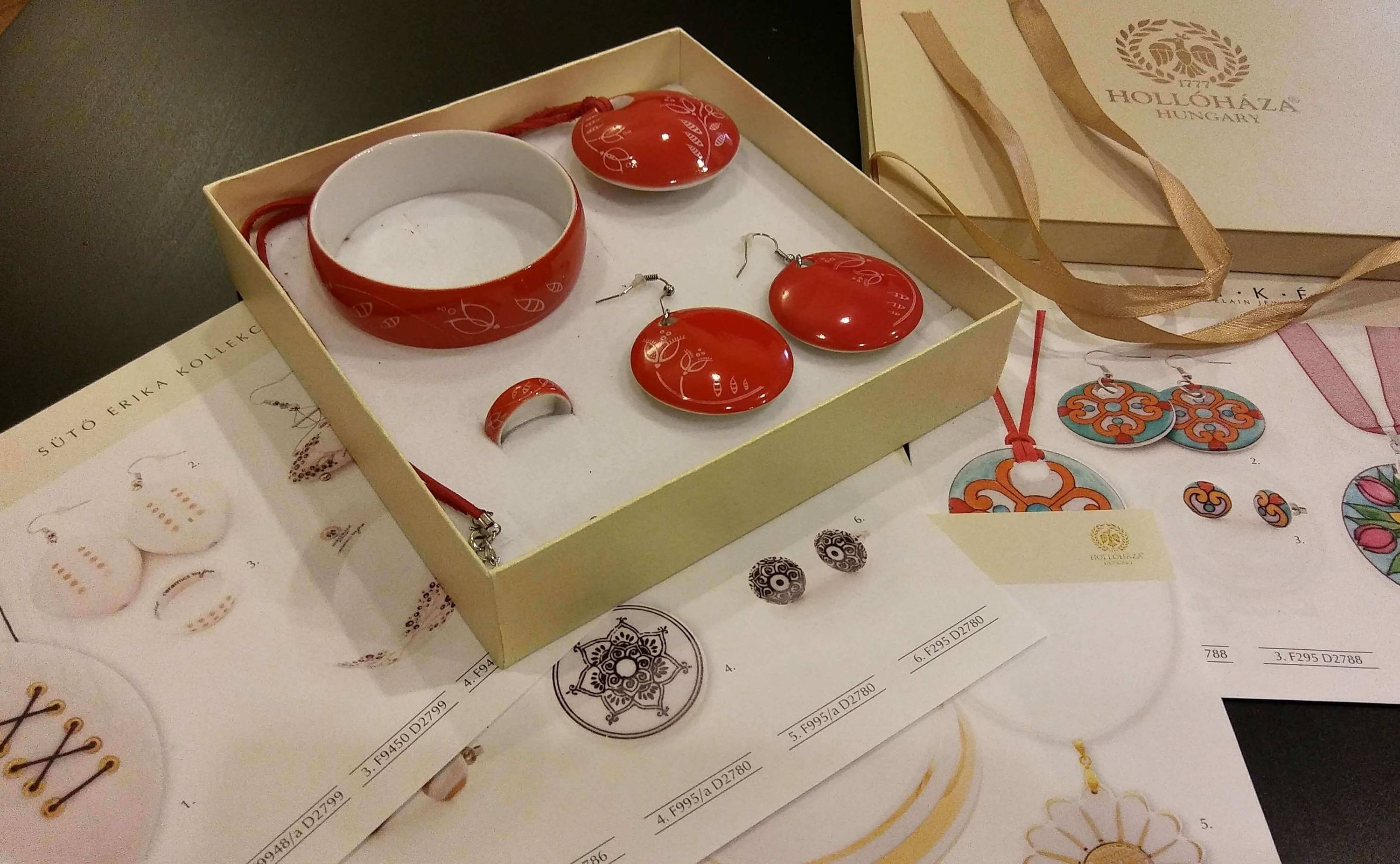 History of Hollohaza Porcelain Manufactory
Originally Hollóházi porcelain started its career as glassworks in 1777. However, these handmade products became well-known after a couple of decades Hollóházi porcelain could not survive for a long time due to lack of basic materials. Karolyi decided to turn the facilities into a furnace factory in 1831 given by the reason having a massive amount of kaolin sources around this area.
This decision has given a massive chance for the factory's future. In 1857 huge investments has made on the factory properties provided by the new owner.
A completely new factory has arisen in the valley of Hollóháza in 1972, which caught up the standards of well established European facilities. The amount of employed raised from 300 to over a thousand. Also provided a workplace for the best artists around the country.
Our products popularity has risen strongly within a couple of years. Remarkable demand can be shown from the USA, Scandinavian countries, Japan and Australia as well starting from the early 80's.
Our success has been acknowledged by so much very worthy of the occasion. Just to grab a few example Our company has got the right to provide prizes for well-known sports events (Formula One 1986-1995, 2005), became part of the Vatican collection, also Queen Elizabeth and George Bush has got in their collection.
Final words.
Taking advantage of the timeless elegance of porcelain, the decorative possibilities are almost endless. A group of products was born, which can be the perfect complement to the stylish women either on weekdays or on holidays. Our jewelry collection represents a transition between cheap fashion jewelry and the extra designer pieces.
When Our customers chose these products, they become part of Hollóháza Porcelain Manufactory's glorious history wich enclaps more than 230 years. These wonderful masterpieces up to date for any similar European products. Hollóháza porcelains are demanding and easily fits for everyday usage, However absolutely luxurious.
What's next? It's Your Choice. Of course. You can give us a try or just stay up to date with our newsletter. Sign up for monthly updates here.
OK, your turn now. What's your opinion, what's your thought? Let us know in a comment.
---
---